Boeing Endowed Professor
Director of Computational Finance and Risk Management Program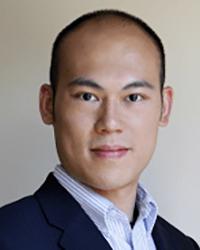 Biography
Ph.D., Operations Research & Financial Engineering, Princeton University, 2008
B.S., Operations Research & Industrial Engineering, Cornell University, 2003
Professor Tim Leung is a tenured Professor of Applied Mathematics and the Director of the Computational Finance & Risk Management (CFRM) program. He is also a core faculty of the UW Quantitative Ecology and Resource Management (QERM) program. Before joining UW, he was​​ an Assistant Professor in the Department of Applied Mathematics & Statistics at Johns Hopkins University (2008-2011) and in the Department of Industrial Engineering & Operations Research at Columbia University​ in New York City (2011-2016).​ He obtained his PhD in Operations Research & Financial Engineering at Princeton University where he was supported by the Charlotte Procter Honorific Fellowship. 
His research areas are Financial Mathematics and Optimal Stochastic Control. He has worked on a variety of problems, such as derivatives pricing, algorithmic trading, credit risk, ​executive compensation, ​and exchange-traded funds (ETFs). His research has been funded by the National Science Foundation (NSF). ​He has published over 60 articles and written two books respectively, on the topics of Mean Reversion Trading and ETFs. In 2016, he won the Emerald Literati Network​ Award. 
Professor Leung is the founding editor of the book series, Modern Trends in Financial Engineering​, that publishes monographs on important contemporary topics in theory and practice of Financial ​Mathematics & ​Engineering. ​​He also serves on the editorial board of a number of journals, including Applied Mathematical Finance, SIAM Journal on Financial Math, Stochastic Models, International Journal of Financial Engineering, Studies in Economics & Finance, High Frequency, and Digital Signal Processing. ​He's the elected Chair for the Institute for Operations Research and the Management Sciences (INFORMS) Finance Section, as well as Vice Chair for the SIAM Activity Group on Financial Mathematics & Engineering (SIAG-FME).