Associate Professor
Director of Computational Finance and Risk Management Program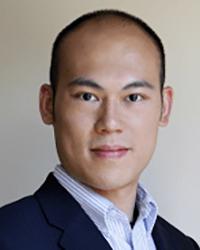 Biography
Ph.D., Operations Research & Financial Engineering, 2008
M.A., Operations Research & Financial Engineering, 2006
B.S., Operations Research & Industrial Engineering, 2003
Professor Tim Leung is a tenured Associate Professor in the Department of Applied Mathematics and the Director of the Computational Finance & Risk Management (CFRM) program. He is also a faculty affiliate of the eScience Institute and the UW Quantitative Ecology and Resource Management (QERM) program. Previously, he was​​ an Assistant Professor in the Department of Applied Mathematics & Statistics at Johns Hopkins University and in the Department of Industrial Engineering & Operations Research at Columbia University​ in New York City.​ He obtained his PhD in Operations Research & Financial Engineering at Princeton University where he was supported by the Charlotte Procter Honorific Fellowship. 
His research areas are Financial Mathematics and Optimal Stochastic Control. He has worked on a variety of problems, such as derivatives pricing, algorithmic trading, credit risk, ​executive compensation, ​and exchange-traded funds (ETFs). His research has been funded by the National Science Foundation (NSF), and published in ​dozens of journal​ articles​. He has written two books respectively, on the topics of Mean Reversion Trading and ETFs. In 2016, he won the Emerald Literati Network​ Award. Professor Leung regularly supervises student research projects, and collaborates with academics, practitioners, as well as regulators. 
Professor Leung is the founding editor of the book series, Modern Trends in Financial Engineering​, that publishes monographs on important contemporary topics in theory and practice of Financial ​Mathematics & ​Engineering. ​​He is also an Associate Editor of a number of journals, including Applied Mathematical Finance, SIAM Journal on Financial Math, Journal of Financial Engineering, Studies in Economics & Finance, High Frequency, and Digital Signal Processing. ​He is the elected Chair for the Institute for Operations Research and the Management Sciences (INFORMS) Finance Section, as well as Vice Chair for the SIAM Activity Group on Financial Mathematics & Engineering (SIAG-FME).